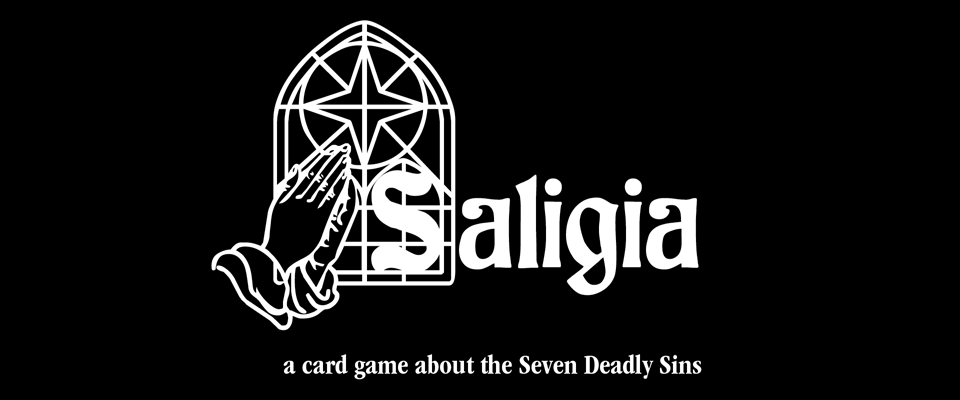 Saligia
Saligia is a print-n-play card game where you the goal is to commit all of the Seven Deadly Sins before your opponent.
Saligia is [ideally] a two-player game (although there are some alternative instructions to adapt for more players). There are seven different types of cards, each representing one of the Seven Deadly Sins. When you play a Sin card, it results in a corresponding action—usually with the end-goal of trying to help yourself or sabotage your opponent. The goal is to get at least one of each of the Seven Deadly Sins into play. You do that, and you win. Easier said than done, as you'll soon find out. The thing about sinning is sometimes your opponent is even more wrathful and greedy than you are.
SALIGIA CARD GAME DOWNLOAD INCLUDES
A 10-page instruction manual (not including front and back cover) that includes an introduction, information on the 7 Deadly Sins, base game rules and card explanations, & alternative rules and ideas for Seven Heavenly Virtues bonus gameplay.
Aforementioned intructional manual comes as designed PDF, reflowable EPUB, and a MOBI file. These are all the same instruction manual, just with different ebook file format options.
3 minimalist card designs on one 11"x17" PDF that can be printed out at home (the recommended amount of cards to play with is 77, so you'd need to print out 11 sheets—but you'll get three different card deck styles). Cards don't include a card-back design, although half of the fun is making your own wickedly sinful cards, no?
1 game mat idea PDF. This is more to demonstrate gameplay set-up, but you're more than welcome to print it out or adapt it.
Superbia
Avaritia
Luxuria
Invidia
Gula
Ira
Acedia
Download
Click download now to get access to the following files:
saligia_instructions.pdf
249 kB
saligia_instructions.epub
283 kB
saligia_instructions.mobi
564 kB
saligia_gamemat.pdf
15 kB